We understand the importance of obtaining the most durable wool yarn because we appreciate that our rugs are only as good as the materials used.   Our designs are hand-knotted in northern Pakistan and the wool yarn comes from Afghanistan.  The wool is strong, durable and rich in natural lanolin, and unlike white wool from the Australian merino, the wool from the Afghani sheep has various shades of colour, and these shades can range from ivory through to black.  When the yarn is dyed, it has a colour variation that shows a shading that is natural and organic, all without manipulation.
Using this strong wool, our rugs have a long life.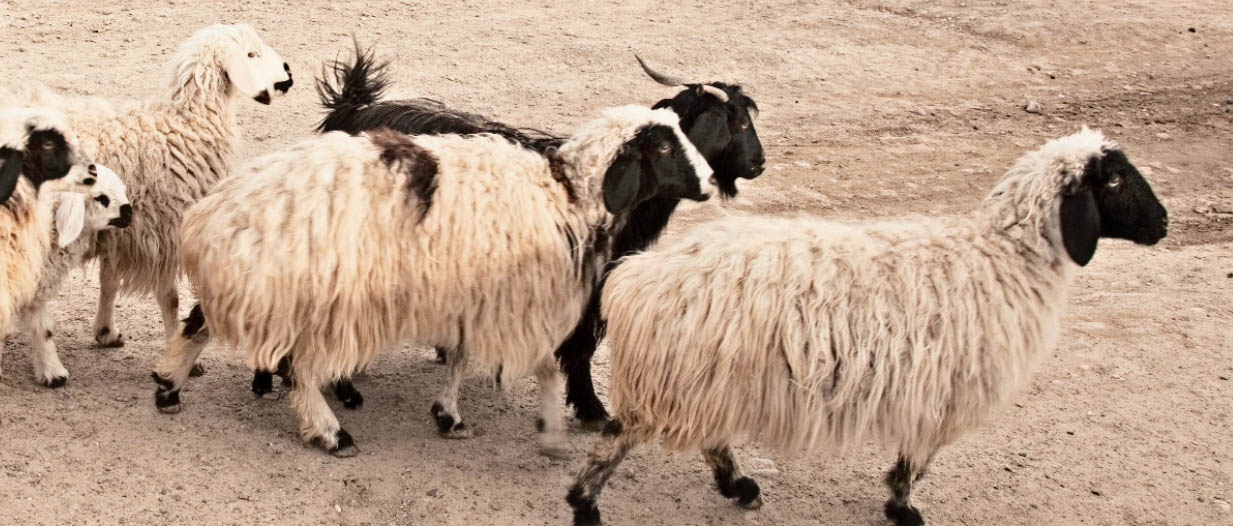 Throughout the multi-facet process of rug making, this exceptional yarn is handled with great reverence by the many skilled workers which include a long list of spinners, dyers, weavers, clippers and those who complete the final wash and the finishing touches.   Each stage involves techniques that follow a long tradition of rug making craftsmanship, and the entire process can take up to 4 months to complete a large sitting area rug.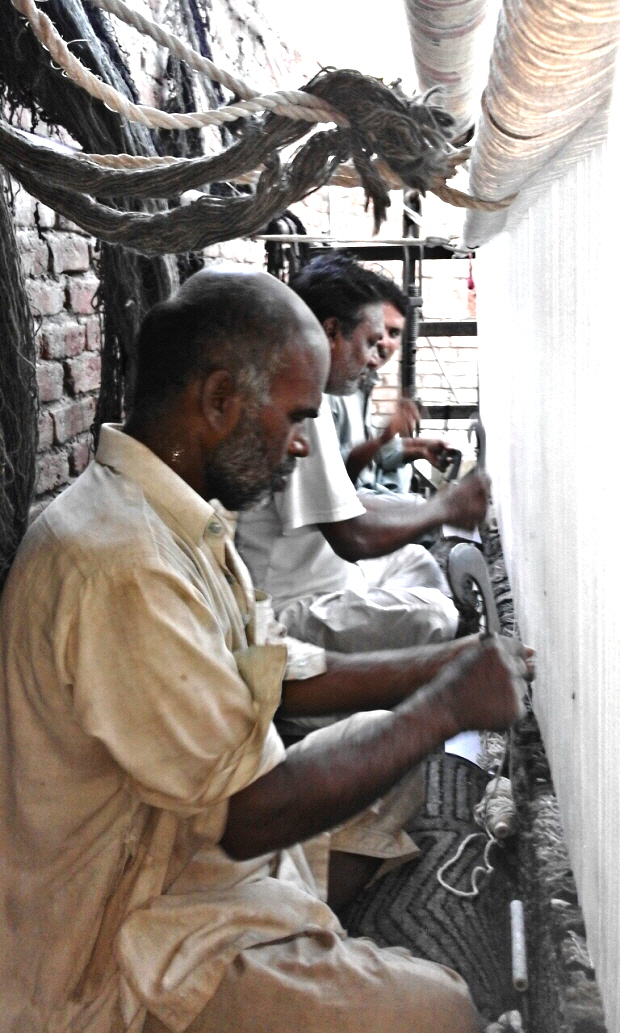 Here we have three weavers working on a large loom and hand-knotting one of our new designs QUILL in a  popular size of 290cm W X 360cm L. Each knot is made around two of the vertical cotton warps and then the wool is cut before moving onto the next knot. The warps on the loom are the vertical strands of cotton running up and down the rug and when the rug is cut from the loom, the ends are secured and the warps are cut short to form the fringing.
The knots are made of different coloured yarn which form the pattern of the rug and you will see our chosen colours in the QUILL rug are charcoal, pewter and black.
As each row of knotting progresses, cotton wefts are threaded across the width of the rug, in and out of alternate warps, and then beaten down to compact the rows of knots creating a very tight structure.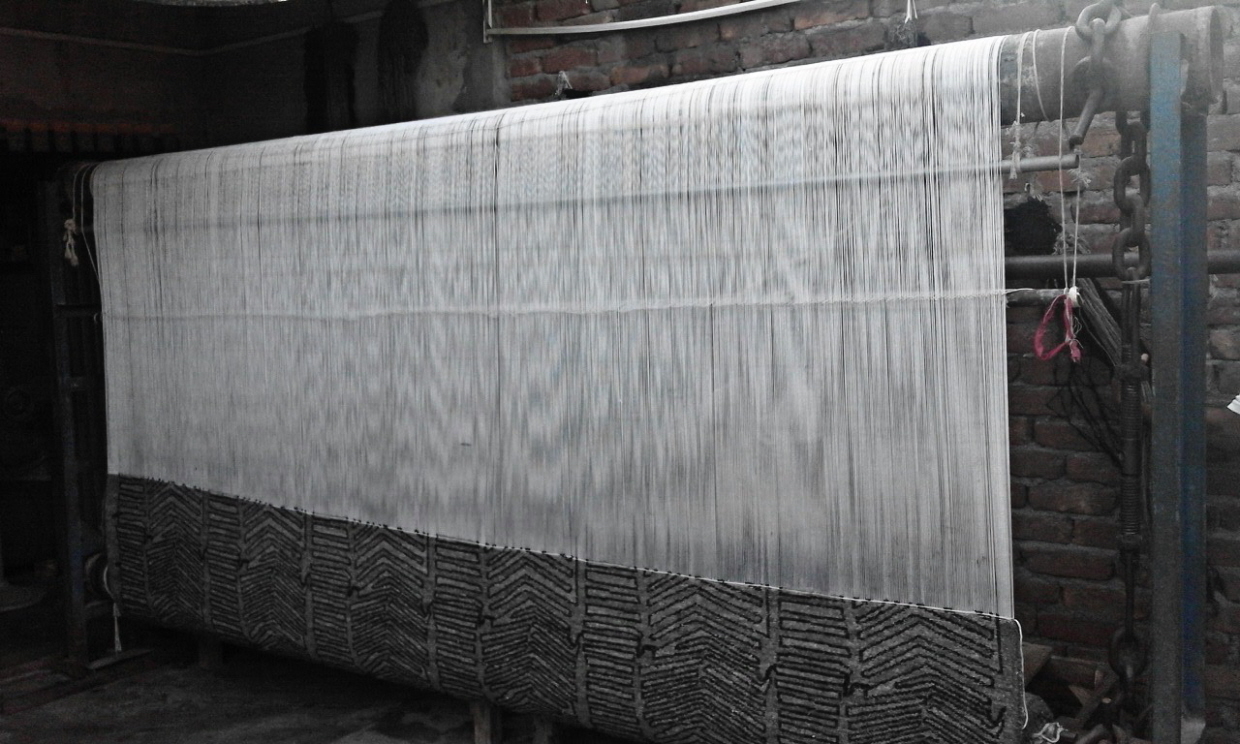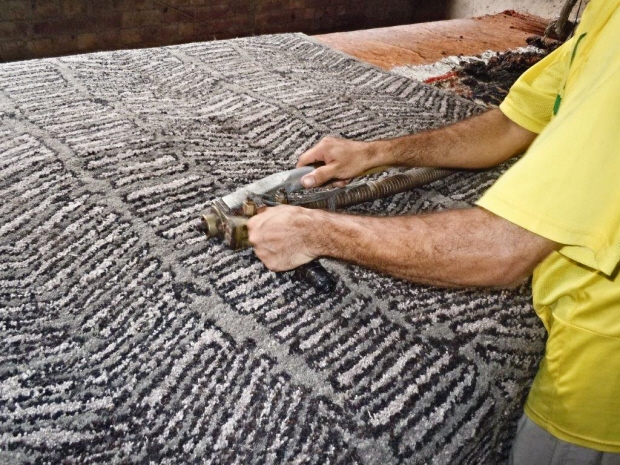 At the completion of all knotting, the pile is long and uneven and from the front side of the rug this shows a blurred image of the design.  At this stage, with the rug cut from the loom, the pile must be carefully clipped and shaved to the correct height. A lower and even wool pile will clearly show the design and the texture of the hand spun wool.
Also, we see our QUILL rug during the final stages at the finishing plant where it is washed, and there is no substitute for this hands on procedure. The rug is saturated with water and shampoo, scrubbed with brushes until clean and then rinsed meticulously to get all of the soap out. The human touch of hand washing ensures that the rug will maintain the primary oils and lanolin that protect the rug, and also provide it with beauty and luster.